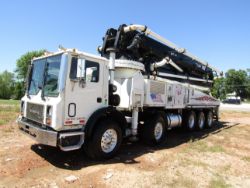 Venue address
Online Only
JORDAN CONCRETE CONSTRUCTION
302 TCW Court
Lake St. Louis, MO
Missouri
United States
DAY 2 - Timed Online Only Concrete Construction Auction
Jordan Concrete Construction has been pouring foundation walls for over 20 years in the St. Louis area. The company was by founded in 1998 by Andrew Jordan and his wife. The company's expertise over the last decade has been custom homes. The Jordan's started operations out of their St. Charles county home and then in 2006 completed construction on their Lake St. Louis offices & warehouse where they expanded to fill the 5,000 sq ft building and lot. For the last several years, Jordan Concrete Construction has been run by Andrew & his son. After 20 years serving the St. Louis area, Andrew will be retiring and Jordan Concrete Construction will be closing its doors.
Auction dates
Starts:
Jul 15, 2019 10:00 AM CT
Ends from:
Aug 08, 2019 09:00 AM CT
Auction currency

USD

Buyer's premium

13 %

$25 Title Fee on Titled Vehicles and Trailers

Rigging & removals

Purchases will not be released until paid in full.

Removal by Tuesday, August 13 at 4pm CT

Accepted cards

Other payment methods
There are 421 lots within this auction
We have chosen not to publish our results. Please contact us directly for any enquiries.
Please review and confirm your bid
Clicking the confirm button is legally binding obligation to buy and pay for the lot should your bid be successful.